Here we explain how to change the DNS server of your NetGear router.
What is a DNS server? – A DNS server is responsible for resolving domain addresses.
Do you recommend changing the DNS server? – We recommend changing the DNS servers of your device, as this allows you to bypass the manipulation of your Internet provider, who may have set up possible blockages.
Step 1 Please open the NetGear interface in an Internet browser by accessing your device from one of the following addresses http://192.168.1.1/ or http://192.168.0.1/ . You will also need your NetGear router password.
Step 2: NetGear devices have two primary user interfaces with different capabilities. Should you see " Basics " and " Consolidation ", please select the "Basics " tab followed by the Internet option. If you don't have these two tabs above, please select " Basic Settings ".
Step 3: Now please go to " DNS (Domain Name Service) Servers " settings and change the default setting " Automatically retrieve from ISP " to " Use DNS Servers ".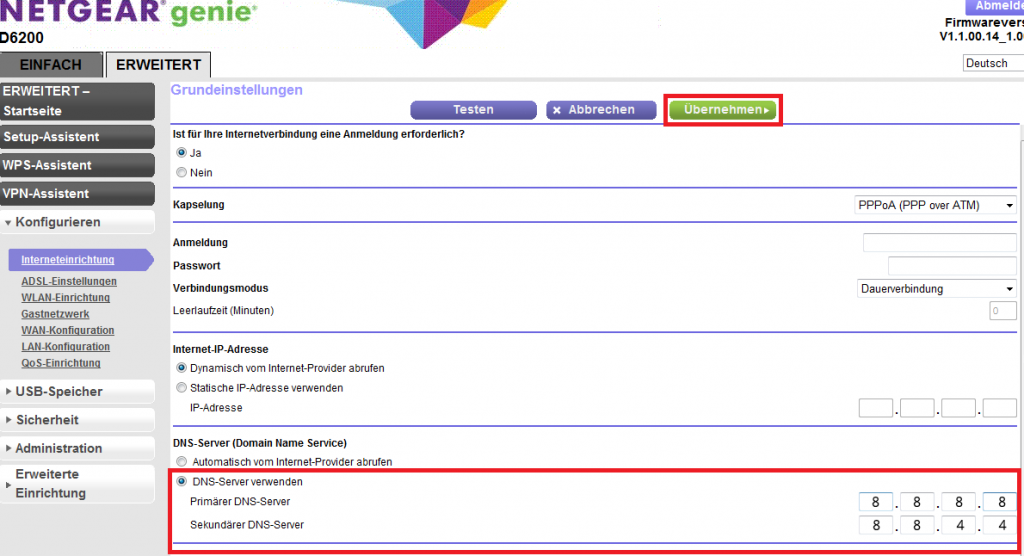 Step 4: Please enter the data for "Primary DNS Server" and "Secondary DNS Server".
Primary DNS server: 8.8.8.8
Secondary DNS server: 8.8.4.4
Step 5: To save the change, all you have to do now is click on " Apply ". If you receive additional instructions for restarting the router, please follow them. If you don't get one, your changes should be successful.
Complete!
If you have any further questions, concerns or suggestions, our customer service is available at the following e-mail address ? [email protected]