Here we explain how to load your access to the Smart IPTV App (SIPTV) of your device.
Smart IPTV setup #
The Smart IPTV application can be used on older SAMSUNG Smart TVs with Tizen OS, LG Smart TVs with WebOS and also on Android devices. Smart IPTV offers you a 7-day free trial after the initial installation. To fully activate the Smart IPTV App (SIPTV) you need to make a one-time payment of €5.49. To activate your MAC address, click HERE .
How to set up Smart IPTV #
After installing the Smart IPTV application on your device, you need to find out your MAC address first. Click HERE to upload your list. You must also be able to see your MAC address in the Smart IPTV app, which is required to send the list to the device.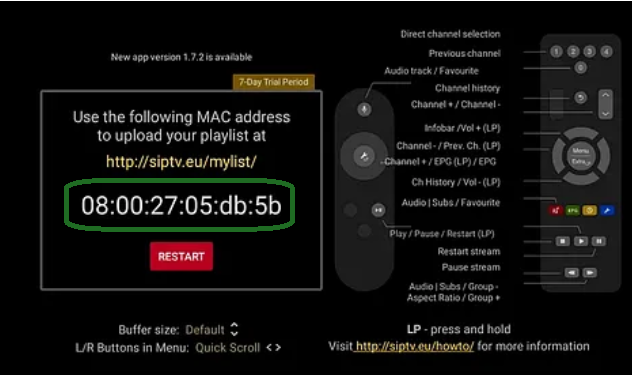 Step 1: Using a smartphone, laptop or computer, please visit the following website to download the list to your device:
Step 2: Now you should have your M3U URL ready, which you can see in your customer account. For further help in this regard, you can use the following help: How to see your access
Step 3: Now please enter the M3U URL in the " URL " field (highlighted in blue).
Step 4: After that, we ask you to enter your MAC address in both " MAC " fields (marked in green) and then click " Delete ". This deletes the previous lists loaded on the MAC address.
Step 5: In order to load the list onto your device, you must first solve the required Captcha in order to then be able to press " Send ".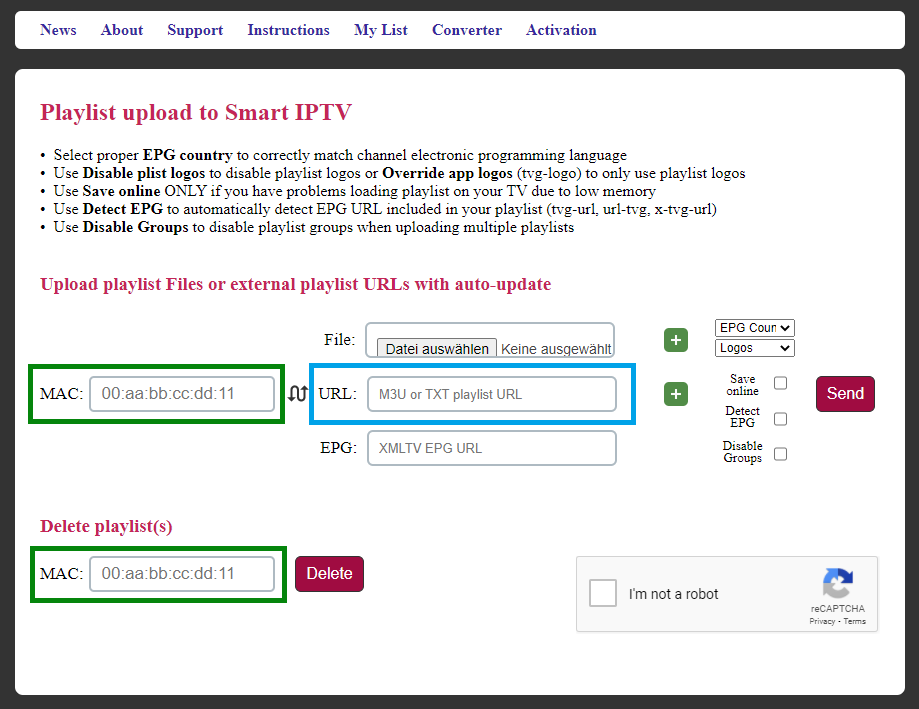 Step 6: Now you should go to " Restart " or " Reload " in the app, alternatively press and hold the "0" button on the remote control for a short time.
Complete!
If you have any further questions, concerns or suggestions, our customer service is available at the following e-mail address ? [email protected]